Introducing One of Porsche's Most Iconic Cars Yet
Later this year and beyond 2020, Porsche will be proving to drivers everywhere that it is possible to have impressive speed, startling power, and impeccable style all while remaining completely electric. It's time for the public to meet the 2020 Porsche Taycan.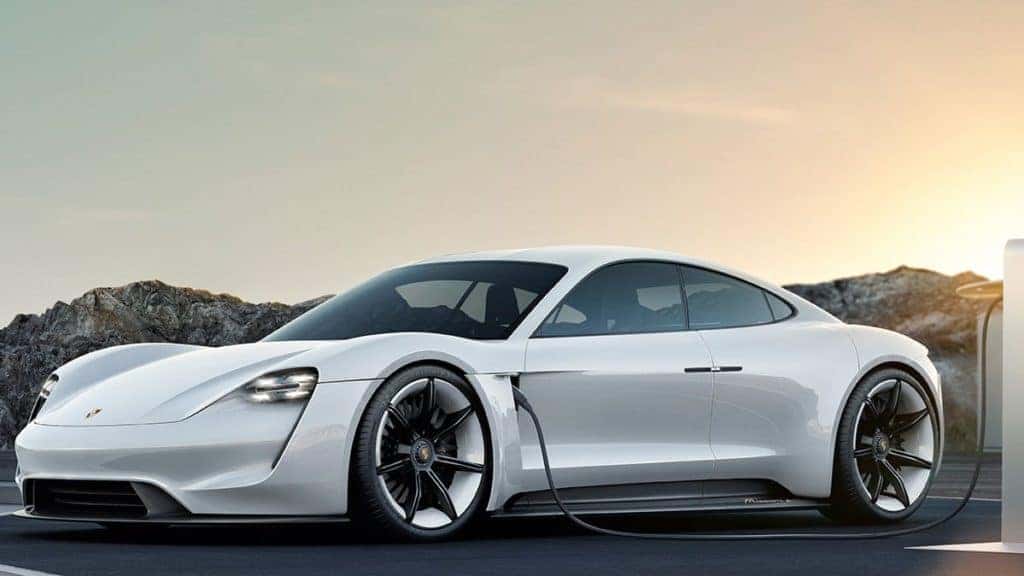 The German automaker has been producing award-winning hybrid vehicles since 2015, but Porsche has taken enormous strides in crafting and perfecting its first all-electric car, whose highly-anticipated reveal will take place this September 2019.
Not only will the Porsche Taycan leave behind a virtually invisible CO2 footprint, it will manage to maintain the same level of driving performance expected of Porsche, an impressive feat for an all-electric vehicle. Driving enthusiasts will no longer have to sacrifice power or sentimentalism in order to remain environmentally responsible.
In fact, Porsche CEO Oliver Blume states that the Taycan will drive just like the iconic Porsche 911. It retains the same sense of luxury and handling, and has an even lower center of gravity. With an expected 600+ horsepower, zero-to-sixty mph acceleration in 3.5 seconds, and an 800-volt fast-charging system that can replenish 80% of the battery in just 15 minutes, the Porsche Taycan is not going to be held back by its electric powertrain. Porsche officials have been assuring fans that the Taycan (which translates to "lively, young horse") is just as athletic, just as performance-oriented, and just as representative of freedom as the 911 is. As stated in interviews about the Taycan's upcoming unveiling, it looks like drivers will finally be given "the first electric sports car with the soul of a Porsche."
The Porsche Taycan will also be capable of higher continuous power outputs across longer distances than we are used to seeing in electric vehicles, including Tesla's performance line. Porsche estimates the Taycan will achieve a 311-mile all-electric range, and will knock you back in your seat as strongly at the 311th mile as it did the first.
"Despite its zero-emission status, this is a proper Porsche," claims Bernd Propfe, platform director for the Taycan. "As a result, performance is of the essence. Even when driven flat-out for an hour or more, this car will only go into a limp-home mode when the distance-to-empty is at zero. Unlike other products, the Taycan's power and torque curves will not be dented by a drop of state of charge. As long as there is juice left, an all-out attack always remains an option. In terms of repeatability, this is in our view the undisputed leader of the pack."
If extra, extra acceleration and speed is your style, there's a Porsche Taycan Turbo in the works, as well. This version will feature a 96-kWh battery, a 215 horsepower motor up front, and a 405 horsepower motor at the rear. Drivers can enter launch-control mode by using both feet, but be warned of the reported (but thrilling) whiplash effect.
The Porsche Taycan seats four, and hosts clever "foot garages" to accommodate long-legged back-seat passengers. A large, curved digital display screen greets you up front, but owners can also opt-in for an additional rectangular monitor and an extended heads-up display. Drivers are able to sit back while in control of a long list of advanced technological features, all while helping save the planet.
If you think you'll miss the noise of a traditional engine, Porsche has that covered, too. The Taycan will feature a unique, optional sound generator to satisfy your sense of nostalgia when you crave it. With the flip of a switch, the cabin will be flooded with a synthetic engine purr (or roar). When you're ready to slide back into the future, switch it off to hear nothing but a faint hum.
Having just finished its final test drives, the Porsche Taycan is already one of the most anticipated electric vehicles to hit the market. CEO Blume informed journalists that annual production will exceed 20,000 units, but only 10,000 units will be released to the public at the end of this year.
To stay updated on the 2020 Porsche Taycan, see photos and videos of our inventory, and read up other Porsche news as it's released, be sure to like us on Facebook.
Facebook: https://www.facebook.com/Porsche.Peoria/
Instagram: @porschepeoria
YouTube: https://www.youtube.com/user/PeoriaPorsche/videos
Porsche of Peoria inside Autohaus of Peoria
2322 Van Winkle Way
Peoria, Illinois 61615
309-243-7000